How do I view a Recumbent Trike or Come visit your store?

Please contact us via phone, email, or our social pages to schedule an appointment, we normally schedule appointments outside our regular retail store hours, and plan for 1 to 1.5 hours for your consultation and test ride.



During your appointment we will assess your riding and health needs, find our more about when, where and how you want to ride, discuss any medical conditions or concerns, talk about adaptive modifications, measure your height and X-seam, get to know you on a personal level, and then take some models out for test rides we feel would be best suited based on budget and ability.
We normally stock 10+ models and have lots of accessories to add on and you can buy on the spot or think about it. Trike appointments usually require more than 1 store visit and are an investment for the rider especially for those riders with balance issues, physical limitations, or other concerns. We expect you to have questions after the appointment and we do our very best to answer them. We want you to feel guided in the process but not pressured. We want you to choose the best model for you. Recumbent Trikes provide freedom to people unable to ride conventional bikes. From as young as 8 to as old as you feel.

Recumbent trikes are not a just point and click and pick it up kind of bike!
What is a Recumbent Trike?
If there are two wheels in the front and one in the back, it's a Tadpole. We like those best and those are what we stock. The recumbent aspect is the rider sits slightly reclined in a t-shaped frame with a low center of gravity, supporting the body in a mesh seat, fully distributing body weight evenly between the 3 wheels, the pedals are in the front and the drive wheel is in the back. Braking and steering is done in the front wheels via handle bars.
We are proud to be a Canadian Recumbent trike Dealer in Alberta, Canada for Terratrike, Greenspeed, and Catrike.
There are a variety of options of recumbent trikes just like regular bicycles from various wheel sizes, frame sizes, seating positions, rider weight, rider capability, gear options, folding, suspension, and budget. Recumbent trikes are stable giving riders with balance issues, recovering muscles impacted by injury or disease, medical conditions like stoke or nerve damage the ability to ride again.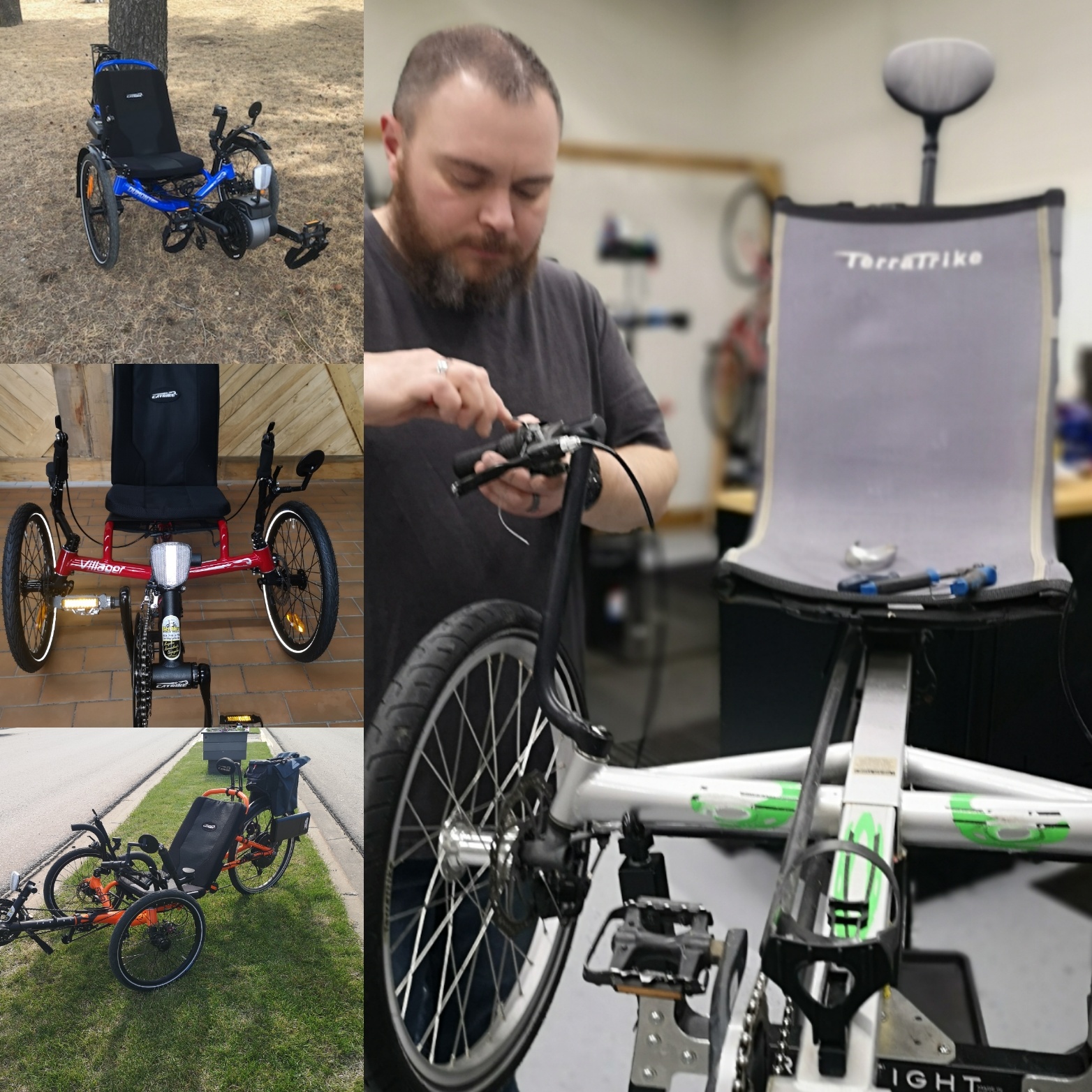 What Adaptations or Modifications can be made to the Trike?
Electric assist can be added in either hub or mid mount versions. Entry bars can be installed for the rider to easily enter or exit the trike. Braking and gearing can be adapted and moved to the dominant side of the rider. Accessories like flags, neck rests, fenders, pannier bags, rear racks, water bottle systems, etc can be added to customize the experience. Pedaling system can be adjusted to different tooth ranges, shorter crank lengths, different gearing ranges, and more.
We work with the rider to give the best experience, advice, and knowledge to gain the ability to ride like never before.
What Electric Assist Options are available?
Bosch Active Line Plus eCat Kit from Catrike


 

Features:

 

Max power about 50N.m
Purion Controller is the minimalist on-board computer
The backlit, non-glare display allows you to read all riding data clearly

Compact size, weight about 3.2 kg
The quiet yet powerful Drive Unit offers major riding enjoyment
Fits most models of Catrike
Gear shift detection
Professionally installed by our Certified Bosch Mechanic

 

 

Specifications:

Maximum Power: 250W
Levels of Assist: 4 Eco, Tour, Sport and Turbo
Maximum Torque: 50N.m
Power Assist ratio: 40% - 270%
Speed Limited: 32 km/h
Rated Voltage: 36V, 11.1 ah battery

 

 

 

 

Tongsheng Mid Drive Mount TSDZ2 Motor

 

Features:

 

Max Power about 80N.m, strong ramp-climbing capability
Internal controller + axial torque sensor (real two-side torque)
Compact size and elegant shape, weight about 3.4 kgs
Comfortable ride, high efficiency, less battery consumption and longer riders
Safe, reliable, and excellent performance
Easy to read screen, thumb control, and optional throttle available
Fits most brands of recumbent trikes
Professionally installed by our Certified Mechanic

 

Specifications:

 

Maximum Power: 350W
Levels of Assist: 4 Eco, Tour, Speed and Turbo
Maximum torque: 80N.m
Power assist ratio: 36% - 300%
Speed limited: 32 km/h
Rated Voltage: 36V, 14.8 ah battery


 

 

 

 

 

 
Where is the price? I see US MSRP pricing only?
We buy Trikes in US dollars. Therefore we need to account for Canadian Conversion rates + any import duties of 13% + freight + any additional adaptations! We do our very best to pass on any possible savings if the Canadian dollar cooperates. We do not price everything online since there are too many variables to account for and we rarely just sell a base model trike. We offer Financing Plans, we take Mastercard and Visa to make the recumbent buying experience an easy one.